This blog will break down why businesses are moving their manufacturing from China to Mexico. After reading it, business leaders will be able to evaluate if their business could benefit from moving its manufacturing.
China - The World's Factory
For decades, companies have taken advantage of the low-cost labor in China to produce their products, but times are changing. With rising labor costs, tariffs and delays, many companies are looking for alternatives to China for their manufacturing needs. In this article, we will examine why companies are shifting away from China and what that means for their supply chains.

For years, cost competitiveness was a major factor that drove companies to source their production from Chinese factories. But now, cost competitiveness has begun to erode due to increasing wages and other factors. The unit labor cost of manufacturing has increased by 285% in the past 20 years.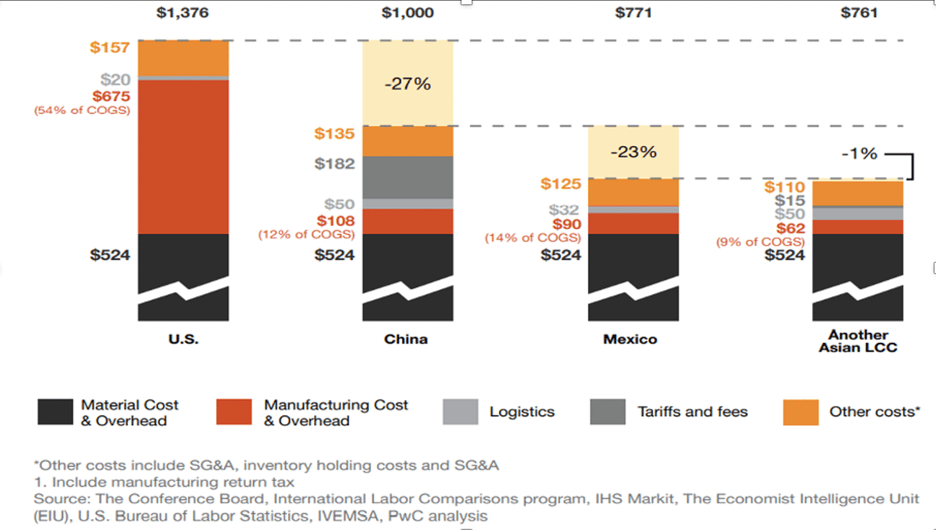 Along with rising costs in China, many companies have been affected by tariffs imposed on goods produced there. Some businesses have chosen to move production out of the country due to the increased costs that come with these tariffs.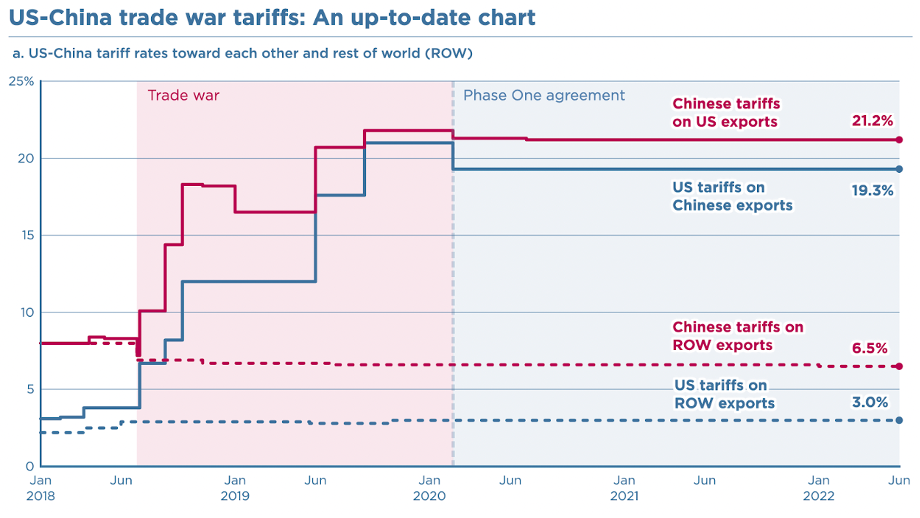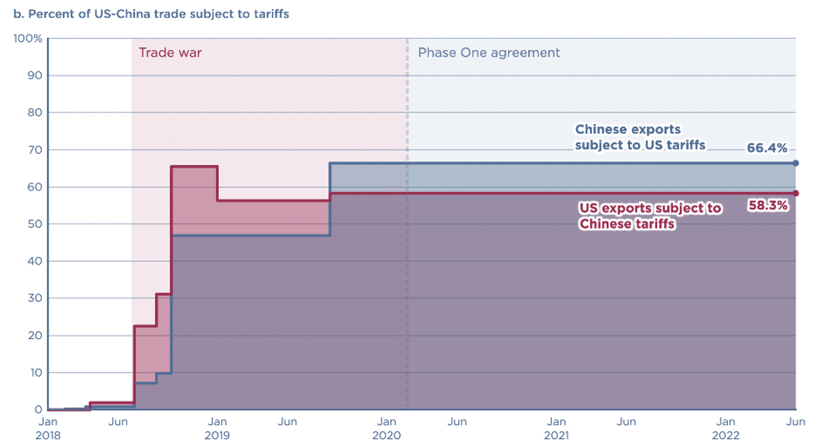 Source: Peterson Institute for International Economics
Many companies are increasingly concerned about intellectual property theft when producing goods in China, leading them to look elsewhere for alternative manufacturing sites. Chinese manufacturers have been widely known to copy a manufacturer's product and then create knock-off products and sell them to competitors throughout the world.
Mexico - The Nearshore Leader
Nearshoring is the process of bringing a company's production closer to its customer base. This simplifies logistics, transport, and managerial support while improving cash flow, simplifying the planning process, and reducing supply chain risks. There are many reasons why companies are beginning to look to nearshore production in Mexico for their manufacturing needs over China. Here are some benefits of nearshoring in Mexico.

Competitive Labor Costs
One of the main benefits of nearshoring in Mexico is its competitive labor costs. In fact, according to data from 2019, the average wage in Mexico was $3.95/hour compared to $4.50/hour in China—making it one of the lowest-cost countries for labor around the world. Additionally, the minimum wage in China is 257% higher than it is in Mexico, making it an appealing choice for companies who want to lower their costs without sacrificing quality.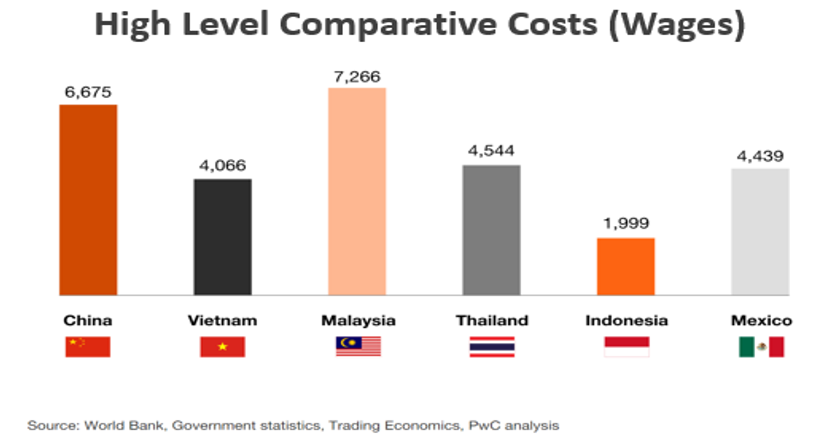 Shorter Delivery Times & More Reliable Supply Chains
Because of the proximity, shorter delivery cycles, and manufacturing best practices, companies can significantly reduce overall inventory while improving reliability.
Transporting products from China typically takes four to six weeks while transporting them from Mexico to the US can be done within two-to-six days—effectively cutting delivery times by more than 75%+. By reducing the planning to delivery cycle time, companies have the ability to improve planning, therefore, improving their forecast accuracy. If a company needs to alter its manufacturing plan due to an increase or decrease in demand, adjustments can typically be made in weeks in Mexico versus months in China.
This not only helps businesses increase inventory velocity but also creates more flexible supply chains which reduces risk and maximizes return on working capital.
Cash Flow, Planning, and Risk
Many companies sourcing from China have limited ability to finance their inventory through payables. Many smaller to mid-sized companies must pay-in-full for their products before they even set sail from the port of origin. This causes a significant amount of working capital tied up in inventory to source from China. Rising interest rates are making financing inventory more expensive which is starting to impact the bottom line.
Current economic and geopolitical conditions are creating new challenges for business executives. A slower economy creates planning challenges, especially when trying to plan six to nine months or longer into the future. The geopolitical tensions between China and Taiwan are creating supply chain risks. If the Russia-Ukraine conflict is a model, then the United States will likely impose severe sanctions against China if they invade Taiwan. If this happens, this will cripple many businesses that rely heavily on sourcing from China.
Proximity and Time Zone Advantages
Nearshoring in Mexico also gives executives an advantage when visiting manufacturers because they can do so with just a simple one-to-two-day trip instead of having to fly overseas and spend several days away from their business operations. Additionally, communication between US-based business leaders and Mexican manufacturers occurs during similar time zones—which helps streamline decision-making processes significantly. Finally, since both countries share a border, importing goods through customs becomes much simpler than importing from other countries that are separated by much greater distances and time zones.
Highly Qualified Workforce
Mexico has been investing substantially in the development of its manufacturing sector for many years, with remarkable results when it comes to graduating more engineers per capita than many other countries, including the United States. This makes Mexico a very attractive destination for companies looking to access skilled labor at affordable costs. By investing in Mexico's manufacturing capabilities, businesses can enjoy long-term benefits while keeping their operational costs low.
Product Quality
Mexican factories have adopted a culture of quality production with zero defects to ensure customer satisfaction. This culture means that Mexican factories will cease operations and consult with the customer if they detect any substandard components during the production process. Additionally, third-party certifications through independent laboratories are readily available in Mexico, offering a reliable way for businesses to ensure their products meet the highest standards of quality and safety.
With these advantages and more, many businesses are moving their operations from China to Mexico.
What businesses are a fit for manufacturing in Mexico?
As a business leader, you may be wondering if your company is a good fit for manufacturing in Mexico. Traditionally, the key industries that have been best suited to take advantage of Mexico's manufacturing capabilities were automotive, aerospace, appliances, consumer electronics, and medical devices. All of these industries typically require a high level of labor content with zero defects.
Mexico is continuing to expand its capabilities offering companies in a wide range of industries the opportunity to nearshore their manufacturing. Because of cost-competitive labor in Mexico and access to the same natural resources found in the USA, Mexico can support manufacturing many different types of products.
However, Steel and aluminum are highly subsidized materials in China. The only way to overcome these subsidies from a cost perspective in Mexico is with products that have 301 tariffs in place and/or have a high labor cost associated with the manufacturing process.
Ready to learn more?
At Visigistics, our goal is to help you establish clear paths to reliable logistics.
To do this, we focus on understanding your business and current challenges, the current market, and what solutions are working in it. We utilize our team of experts in Supply Chain, US-Mexico Cross-Border logistics, International freight forwarding, and Domestic logistics to co-create solutions with you to improve your supply chains. Additionally, we actively research Supply Chain Strategies, Best Practices, and Market Trends and share our findings through Operational Excellence Roundtables. Our mission is to provide you with efficient and viable solutions that will make your logistics processes more streamlined and effective so you can be successful in today's challenging market.
Book a discovery call to get started today!
At Visigistics, we understand that developing a successful strategy requires clear goals and implementation services to make it happen. We start with a detailed assessment of your business operations to identify potential areas for improvement and optimization. By taking into account current market conditions, customer requirements, supply chain dynamics, and more, we create a customized logistics plan designed to meet your specific needs.
We also offer services to give you the options that are essential in today's fast-paced business environment. Our team of experts will work with you to develop and implement a strategy that can expand, grow, and adjust as needed so you can stay ahead of the competition. From transport management and storage solutions to the integration of digital systems, we have the resources to help you successfully manage the ever-changing business landscape.
At Visigistics, our mission is to provide you with reliable and cost-effective supply chain solutions that will take your business to the next level. With our customized strategies and optional services, you can rest assured knowing that we develop a strategy with clear goals for optimal logistic performance AND we implement services to make it happen.